I get great pleasure from using the Prodema material in finishing the interiors and exteriors of buildings. My first acquaintance with it was in the small country of Andorra, where I was surprised by the appearance of several office and residential buildings that had been finished with this material.
Then, with pleasure I used it on the project of the bank "Visavi" and in the interiors of the public spaces at the hypermarket MEGA "Belaya Dacha". The material has a number of qualities that cannot boasted of by domestic producers: fire resistance, moisture resistance, resistance to temperatures (it practically does not change its geometry) and a huge palette of veneers.
Dear colleagues, architects and designers I do recommend this! You will not regret it!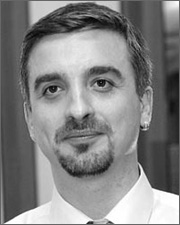 Karen Gabrielian
Architect
The construction company "Prisma" Ltd.